Camping on the Murchison River at Murchison House Station is a truly wonderful experience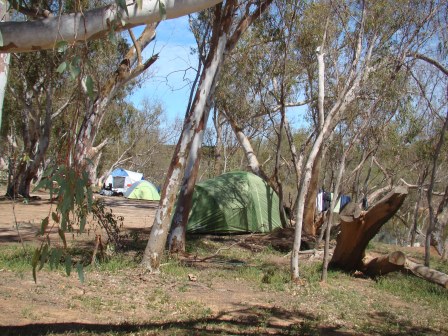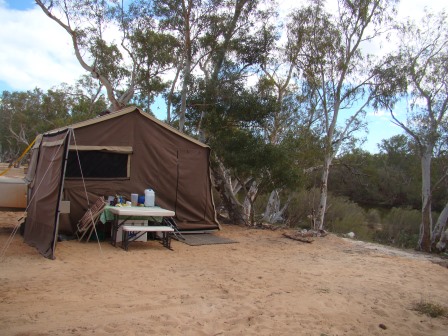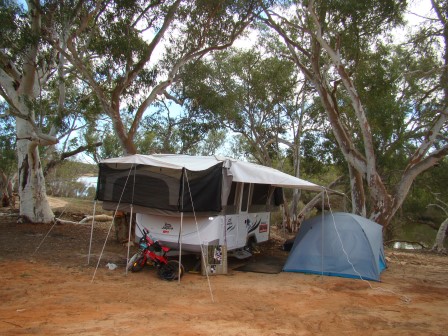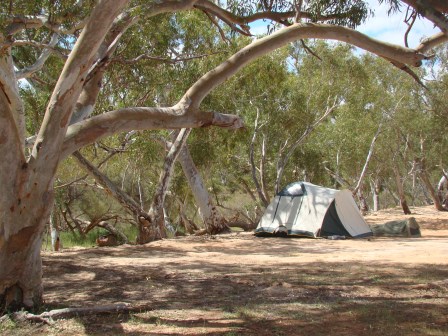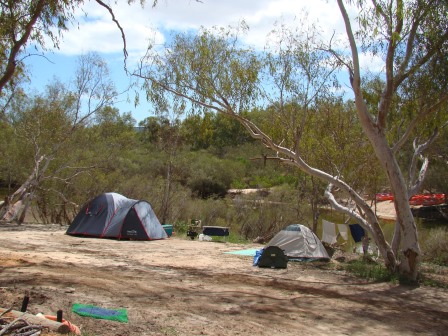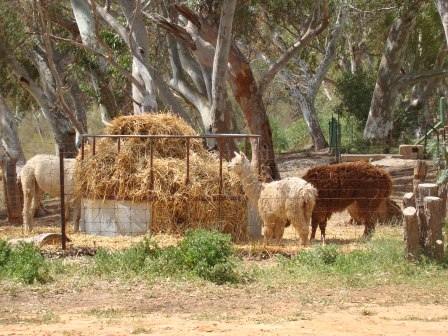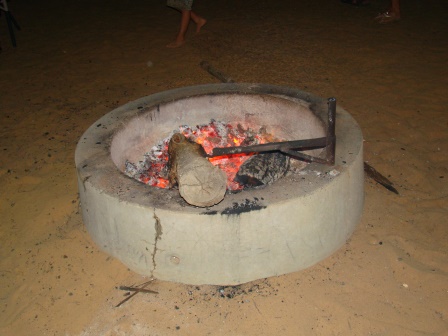 The homestead camp ground offers unpowered 2WD accessible bush camping and stretches for about 200m along the rivers edge.
Camping in the Homestead Camp Ground at Murchison House Station means that camping is accessible to everyone, provided they have at minimum a basic tent, cooking gear and are not reliant on power. Bush camping with a few modern conveniences.
Our camp ground situated on the Murchison River can provide a suitable spot for people that have a little car with a tent and basic camping facilities, to those with a bigger off-road van or Motorhome.
It is real camping, no power, but with access to basic ablutions with hot showers not far from the camp ground. So it is not the usual caravan park style camping with all the camps in neat little rows. The number of camp sites is restricted so that each camp has enough space to enjoy the experience.
You will have access to the campers kitchen if needed, plus there is plenty of fresh drinking water. There is also fire pit, with free barbecues nearby, where you can relax under the stars and share stories with other campers if you like.
Relax on some lovely walks, and you can enjoy fishing, swimming in the river and kayaking. Or, of course you can just chill out in your chair and soak it all in.
Please be advised that CHAINSAWS are not permitted on the station. You are allowed to use small pieces and kindling that is on the ground but no chopping down of tress.
You can use a generator if you please but be mindful of other people around you. Generators must not be used between 8pm and 7am.
Friendly happy Dogs are permitted on the station. Please leave them in your vehicle until you arrive at your camping destination. Please don't walk your dogs up near the office and Homestead grounds. Please keep them with you and clean up their mess. No chasing of livestock.
Motorbikes, Quadbikes and ATV's are not permitted on the station.
Flying of UAV's (Drones) are not permitted on the station without owners consent.
You can also join a quad bike safari, canoe safari or book on for sand boarding, these tours all meet at the homestead. 4WD passes are also available for those wishing to explore the station.
And Kalbarri is not far away - only a 10 minute drive. You have all the conveniences and activities that Kalbarri has to offer, and then you can come back to your own little piece of paradise.
Bookings are essential for peak times such as school holidays and long weekends (public holidays). Please call or contact us to book your spot by the Murchison River.
If you are planning a stay with us at the homestead campground you might find this information useful for your preparation.
Hello Belinda
I think Kaitlyn had her best ever camping holiday. Thanks for your hospitality.
Regards,
Shane (click and check out Shane's detailed blog)
COST
$12.50 per person per night and $5.00 per child 6-16yrs.
TO ENJOY
Wildlife
Fishing
Kayaking
Swimming
Walking
Peace & Quiet
Historic Homestead
Bush environment
AMENITIES
Separate male & female ablutions
Basic Campers Kitchen
Free gas barbecue
Open Fire Pit
Delicious water